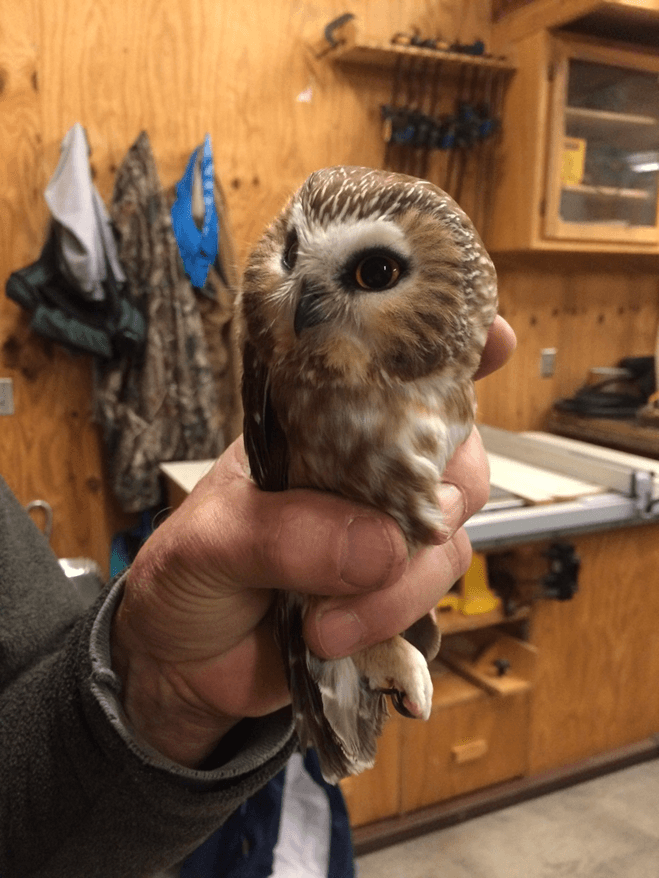 Photo: Saw-whet Owl by Amy Campagna
On a chilly November evening, a group of 23 cold-hardy folks gathered in the barn at Pottawattamie Conservation's Hitchcock Nature Center to see one of North America's smallest owls, the Northern Saw-whet Owl.
These diminutive and unbelievably adorable nocturnal hunters measure just eight inches long and weigh only three ounces. Saw-whet Owls breed in forested areas across northern North America and southern Canada but migrate through our area in the fall to wintering sites in the southern United States. This behavior provides an opportunity to study the secretive little bird, and that's what Jerry Toll and his team have been doing, with permits from the state and federal government, at Hitchcock Nature Center for 16 seasons now. Using a recording of the incessant "toot, toot, toot" of a male Saw-whet, the birds are captured in nets, weighed, measured, sexed, aged, banded, and released. The data help conservationists understand species distribution, movement, population, and annual production.