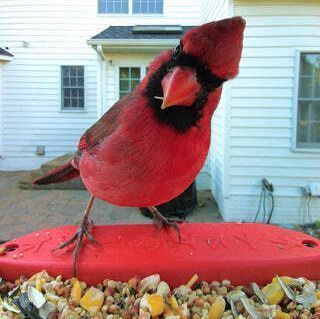 Let's be honest: What happens in Vegas doesn't always stay in Vegas. And that's a good thing. Especially when it comes to Bird Buddy, a smart bird feeder introduced at this year's Consumer Electronics Show.
MYBIRDBUDDY.COM proudly proclaims that "The future of birdwatching has landed," with an innovative line of feeders that snap photos of everyone who drops in for a fly-by feeding. Sporting a powerful AI-driven camera, Bird Buddy can notify you when your visitors arrive, identify more than 1,000 species of birds, and assemble the pics into an immaculate collection you can share with other birding buddies through a mobile app.
Kyle Buzzard (yes, that's his real name), Bird Buddy's co-founder and chief hardware office, tells the Associated Press that, "We try to gamify the collection so it's really a fun game you can play — almost like a real-life Pokémon Go with real animals and wildlife in your backyard."
But, wait … there's more. Starting at $199, the basic blue or yellow feeder offers a high-resolution camera, bird species recognition and history, a built-in microphone, and bird arrival notifications. Add-ons include a detachable solar panel (to power your Bird Buddy), a wall mount, a fence mount (currently so popular it's out of stock), a suet ball holder, and a water fountain. Operation requires access to your home Wi-Fi network, which sends the stream to your mobile device. Bird Buddy's engineers are researching local storage solutions, but, in the meantime, you can recharge the battery using the USB-C cable included in your package — or plug it into a power source to keep it running constantly.
Built to last, Bird Buddy can operate in temperatures as cold as -5 degrees or as hot as 120 degrees Fahrenheit. Just detach the feeder and take it inside to protect it from extreme weather. What about squirrels, you ask? Bird Buddy's architects designed its structure to withstand raids from these dastardly perch pirates, but nothing is squirrel-proof. The best the designers could do is make Bird Buddy sturdy enough not to break due to repeated depredations.
Currently in the top one percent of all crowdfunding projects, Bird Buddy was hatched as a Kickstarter project in 2020. Since the company starting shipping feeders in September 2022, every single Bird Buddy in its inventory–100,000 in all–has been sold. The high-flying feeder firm is now accepting pre-orders for a projected shipment sometime in 2023.
Starved for companionship? Consider dipping your beak into a Bird Buddy.
NOTE: Please remember to mount any bird feeder away from windows to avoid bird strikes, and clean it regularly to prevent avian flu.