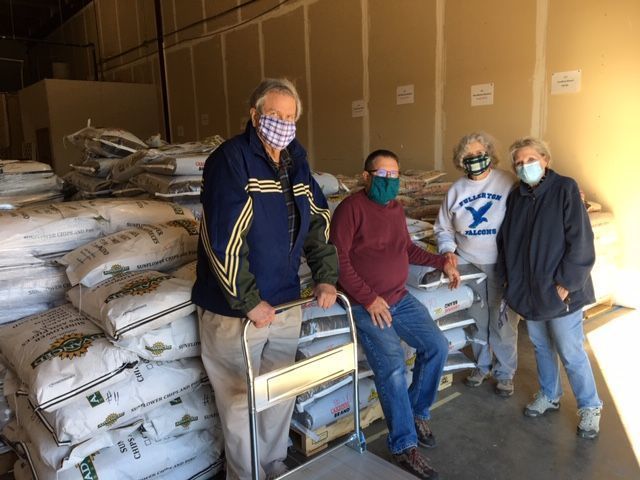 Thanks to all of the 335 customers who made our 40th Fall Bird Seed Sale a success at our new office and warehouse location at 4339 S. 90th Street. We sold 52,300 pounds of bird seed, totaling $45,479, nearly doubling the average of the past six years. Your orders of 1,275 bags and 680 cakes of suet was enough to fill one semi-trailer, plus an additional delivery truck!
Of those 335 customers, 124 (37%) were new. Welcome! Twenty-two customers made an extra donation for contact-less delivery by our STRONG volunteers.Your orders of the high-quality seed will provide a net profit of more than $10,000 in vital support of ASO's education and conservation programs. Thank you also for your additional donations, which totaled $2,196!
Our 50 amazing volunteers (13 new this year) are deeply appreciated. They include a mailing crew of Jo Bartikoski, Mark Cave, KathleenCrawford-Rose, Nelli Falzgraf, Janie Fuller, Betty & John Fullerton, Kathy Schwery and Don Westling. Duane Schwery managed our mailing lists, while Candy Gorton managed our website. Anne Maguire, Lauren Robinson and Heidi Walz coordinated our marketing efforts. Record-keeping was handled by Betty & John Fullerton. Mark Cave took on logistics. And Virginia Stauffer helmed graphics.
Helping to unload the seed delivery, load customers' orders and make deliveries were Ruth Bentzinger, Scott Bradley, Charlie & Andrew Callison, Mark Cave, Kathleen Crawford-Rose, Ken Czyz, Meagan Deichert, Michelle Foss, John & Betty Fullerton, Allen & Kadynn Hatfield, Christine, Hannah & Joe Jacobsen, Michaela Johnson, Tim Kautzman, Wendell Kuhlman, Jessica McAdams, Andy Miller, Matt Miller, DavidNichols, Chris Olson, John Pollack, Greg Prorock, Al Reyer, Michael Shaffer, Duane & Kathy Schwery, Melissa Sitze, Coleen Stice, Noah Sundberg, Jerry Toll, Heidi & Bobby Walz, Bob Wells, and Mary Kay & Mike Wolf.
Providing food for volunteers were Elizabeth Chalen, Meagan Deichert, Michelle Foss, John & Betty Fullerton, Grace Gaard, Michaela Johnson, Anne Maguire and Bob Wells. 
Kudos to Neal Ratzlaff, who helped publicize the sale through his interview with Marjie Ducey in the Sunday, October 4, Omaha World Herald.