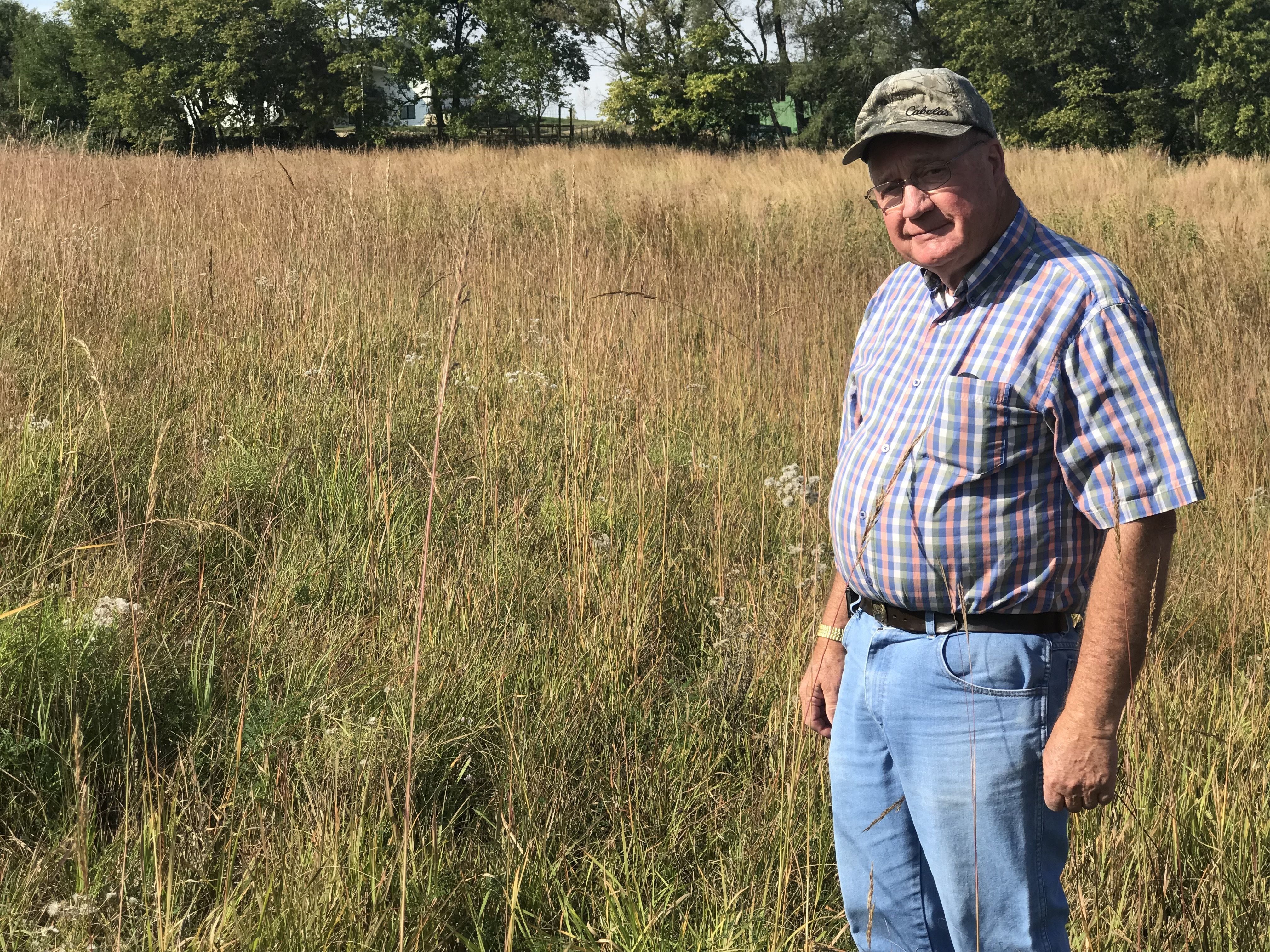 Growing up near Dennison, Iowa, Glenn Pollock has always taken a keen interest in the natural world. After serving in the military in the late 60s, Glenn moved to Omaha to finish his education and start his 30-year career in bio-medical engineering. He also joined the Audubon Society, and began his lifelong passion — finding, protecting and restoring native prairies.
Glenn volunteered at Fontenelle Forest in the early 70s, under then-director Eric Volden. He began going to conferences and learning from people who knew about native prairies. Then he "kept finding prairies."
In 1999, the Audubon Society of Omaha obtained the Audubon Prairie with guidance from Glenn and another member, the late Ione Werthman. They helped secure funding to purchase and protect the seven-acre virgin prairie on the Jensen farm at 69th and Bennington Road, as well as the adjoining 10-acre brome field. Over the years, Glenn has converted seven acres of the brome grass to native prairie. He is in the process of restoring the remaining 3.5 acres, using seed from the dozens of prairie plant species he cultivates in his own backyard.
Glenn has spent nearly 50 years saving native prairies, including King Cemetery prairie near his hometown in Iowa, the 40-acre Vincent Bluff prairie in Council Bluffs, and the Cumming City Cemetery prairie north of Blair, which is also owned by ASO.
As he reflects on the success of the past, he worries about the future. "We don't know how to make soil, but prairies know how to make some of the richest soil on earth. Prairies need protection from people who don't know what they are and want to make money by plowing them under and planting corn or turning them into a development. Once they're gone, they're gone." He also sees climate change as a threat to healthy prairies. "Warmer temperatures and more nitrogen in rainwater invite the growth of invasive species."
Glenn wonders, too, who will carry on after he is gone. He is eager to share his knowledge with those who want to learn more about prairies. He writes a regular prairie update column in the Meadowlark and hopes it encourages birders to walk in the prairie, which is always open to visitors. He recently purchased an ATV to help him get around the Audubon prairie. He welcomes anyone to ride along with him and experience an ecosystem of plants, birds, mammals and insects that has been there for thousands of years … and hopefully thousands more.