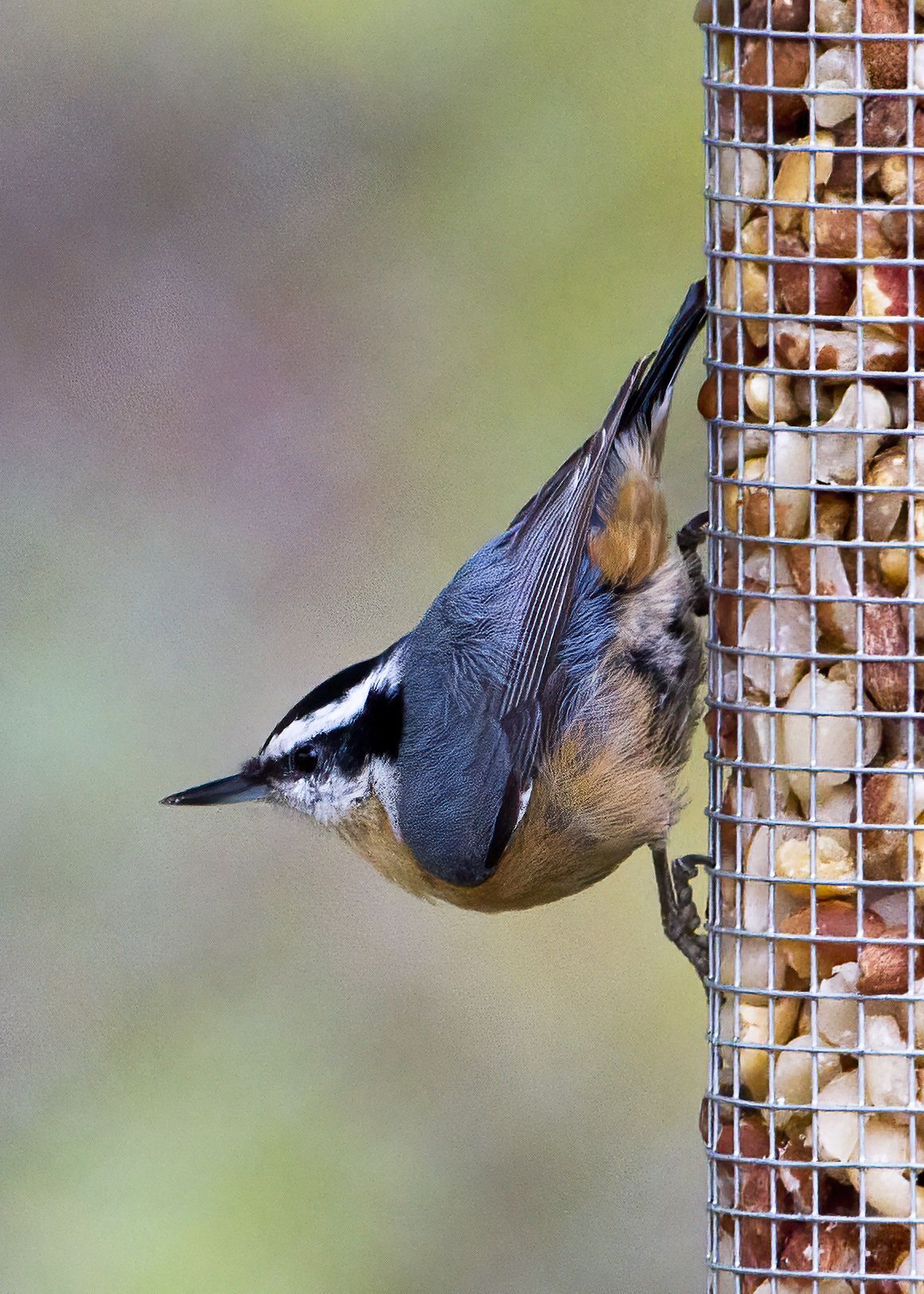 Photo of Red-breasted Nuthatch by Mary Clausen
Learning theory says that the greater the number of senses students use to understand and acquire new concepts, the deeper those concepts will be ingrained in their minds — and the more easily they can be retrieved and applied.
Speaking of "applications," Tracee M. Herbaugh, in an APNews.com article, waxed eloquently about how Merlin, the birding app created by the Cornell Lab of Ornithology, enriches not only the experience of birding itself, but also the connections she forges with family and friends.
This summer, relaxing in an Adirondack chair in her backyard, Herbaugh decided to experiment with Merlin's "Sound ID" feature. A half-hour and several species later, she was amazed to see just how many visitors had joined the "usual suspects" among birds bopping around Boston. In fact, two of the birds she heard merited red dots, meaning that Merlin considered them "a rare sighting." Buoyed by birds, she reflected on birding's increasing popularity.
Downloading Happiness
Isolated by the pandemic, people flocked outdoors, striving for connection with something greater than themselves. Hatched in 2014, Merlin's popularity really took off during the COVID-19 outbreak. By the first spring of the pandemic, 67 percent more people had downloaded the app compared to the previous year. In 2021, when Merlin's content creators introduced Sound ID, which identifies more than 700 species of birds in the U.S. alone, the app reached new heights. Because Sound ID displays spectrogram visualizations, those with hearing loss can use the app, too – even if they can't hear the birds! The app "listens" and shows hearing-impaired birders which birds are in the vicinity, enabling them to watch for birds and make visual IDs.
Worldwide users now number more than 7 million people. (Other popular birding apps include the Audubon Bird Guide, ChirpOMatic, Picture Bird, and Smart Bird.)
Deepening Connections
Herbaugh believes that birding's real value lies in bringing people closer to nature, and to one another. She recalls posting her bird list on social media and receiving messages from friends among Merlin users. She even reconnected with two childhood friends from far away.
Alli Smith, a project coordinator for Merlin, whom Herbaugh interviewed for her story, observes that connection is a frequent theme among the feedback Merlin users provide. "Birding is a surprisingly social hobby, and people are so excited about what they are seeing" that "it's fun to share that with other people."
John Smallwood, a biology professor and ornithology expert at Montclair State University, told Herbaugh that, "You're looking at birds but you can't help but see everything else, too. You see the entire ecosystem."
Smith, from Merlin, emphasized, "We know that people protect what they care about, and you really only care about what you know. So Merlin is our way of making learning about birds available and accessible to everybody."
Herbaugh takes this all personally. "If it takes technology to peel kids away from the screen and interested in the outdoors, so be it.
"As of now, my Life List on Merlin is 45 birds. My kids are the drivers for getting more on the list," she adds.