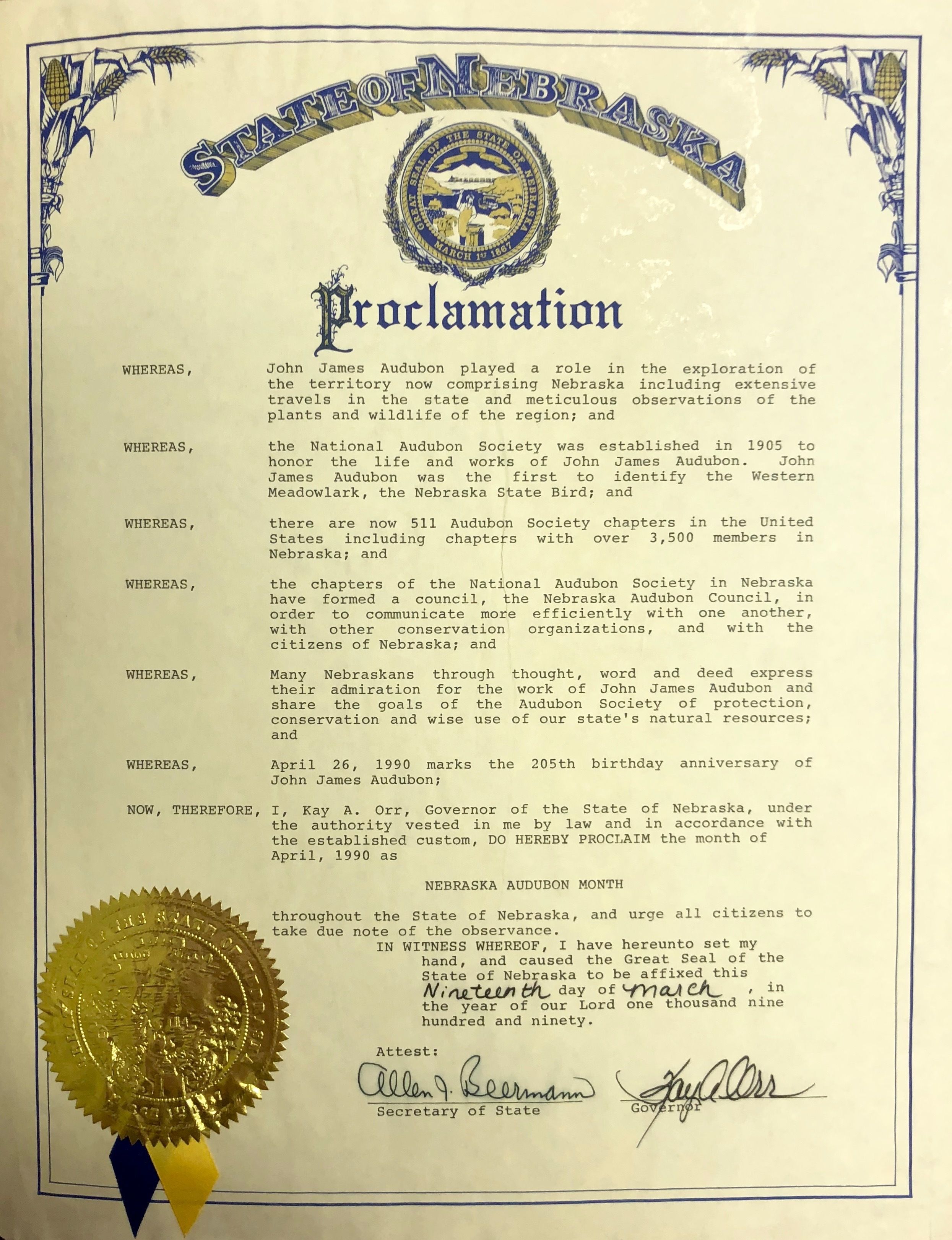 THE YEAR WAS 1972. The cost of gas was 55 cents a gallon. The average cost of a new house was $27,550 and the average income per year was $11,800. The last US ground troops were withdrawn from Vietnam. Title IX was enacted into law, prohibiting federally funded education institutions from discriminating against students or employees based on sex.  It was the year of popular music groups ABBA, The Eagles and the Doobie Brothers; and movies The Godfather and The Poseidon Adventure. Swimmer Mark Spitz won a record seven gold medals at the Munich Olympics. 
FLASH BACK TO 1961. A small group of birders banded together to form the Omaha Bird Club. They shared a passion for birds and nature. Two years later, they began participating in National Audubon's Christmas Bird count. Their numbers grew as word of their club got around, and a decade later, they voted to apply to join the National Audubon Society. Their application was approved and in 1972, they officially became the Audubon Society of Omaha, the first chapter in Nebraska. 
That year, Audubon Society of Omaha took on a battle that ultimately saved the Platte River staging area for 75 percent of the continent's migrating Sandhills Cranes, more than a million ducks and geese, and the rare and endangered whooping cranes. The Mid-States Reclamation project planned to take water out of the Platte in that area for irrigation, leaving it virtually dry for months and possibly years at a time. ASO proposed that federal officials permanently set aside a portion of the river between Lexington and Grand Island as a bird refuge. 
The defeat of the Mid-States irrigation project by the voters of Nebraska was a resounding victory and sent shock waves to Washington, D.C. The project had failed despite a massive advertising campaign by the federal government, financed with tax funds. In April 1972, National Audubon announced the purchase of three tracts of land that encompassed two miles of Platte River frontage. The area was named the Lillian Annette Rowe Bird Sanctuary after the late New Jersey resident who bequeathed the funds for a refuge. 
OVER THE PAST 50 years, countless volunteer hours from members who are passionate about our mission, have allowed our nonprofit organization to thrive. As we look back at our history and accomplishments, we can find inspiration to achieve our vision: We strive to appreciate, learn, and conserve our region's unique biodiversity. In doing so, we will help our community appreciate nature and understand its importance. Ultimately, we aim to inspire others to join us in actively protecting our native ecosystems and restoring nature-friendly environments in the greater Omaha area.
1972 – Audubon Society of Omaha (ASO) becomes the first National Audubon Society chapter in the state of Nebraska
1982  – ASO begins its Birdseed Sale, which continues to be the most successful and popular fundraising effort of our chapter. 
1986 – ASO, along with conservationists statewide, joins forces to prevent construction of the Norden Dam, which would have stopped the flow of the Niobrara River, the most scenic and ecologically important river in the state. 
1988 – ASO teams up with the Nebraska Game and Parks Commission, Raptor Recovery Center, and Fontenelle Forest, to release 22 peregrine falcons on the roof of the Woodmen Tower in Omaha.  ASO coordinates with Woodmen Tower and builds boxes for the falcons.
EARLY 90S – ASO starts a bluebird nest box route by building the boxes and then monitoring them, and reporting the results to Bluebirds Across Nebraska.
1992 – ASO and Papio-Missouri Rivers Natural Resources District saves an 11-acre wetland, Heron Haven. ASO turns over conservation to the NRD in 2005 with its conservation easement and oversight.  
1995 – ASO starts a kestrel nest box route along the Kennedy Freeway and Highway I-680.  With permission from the Nebraska Game & Parks Commission and the Nebraska Department of Transportation, ASO constructed the boxes, monitored them, and reported the results to the NGPC until 2002. 
1998 – ASO purchases a 13-acre eastern tallgrass prairie preserve that continues to be restored to its original state. It's now home to over 80 species of flowers and grasses as well as grassland birds, mammals such as badgers, fox, rabbits, gophers, three species of mice, and reptiles.
1999 – The Omaha Raptor Team joins the ASO and provides educational programs with non-releasable birds of prey for schools, scouts, civic and other community groups until disbanding in 2006. 
1999 – ASO receives a conservation easement on 52 acres of greenspace that winds around the Allen Hills housing area in Washington County.  This is the only conservation easement that ASO owns, and our Natural Areas Management Chairperson monitors it annually. 
1999 – The Audubon Society of Omaha earns the Omaha World-Herald's Conservationist of the Year Award for its efforts on behalf of 
Heron Haven.
2001 – ASO expands the Student Art Contest for K-12 and home-schooled students in the Greater Omaha area. Exhibition of all artwork and the awards ceremonies are held in venues accessible to the public and continues each year.
2003 – ASO hosts guided walks at backyards of members, reaching out to the community and raising funds. Discontinued in 2008 to focus on our prairie preserve.
2008 – ASO conducts annual, guided walk & talk about tall-grass prairies, herbaceous plants, wildflowers, birds, insects at our prairie preserve.
2014 – ASO initiates an open-to-the-public free special speaker series annually with expert-led field
trips featuring renowned birders/authors.
2018 – ASO acquires the only known Missouri Valley, Loess Hills-type prairie in Nebraska. Saved from the plow and other incursions, the 10-acre prairie, which houses the one-acre Cuming City Cemetery near Blair remains as it was when Native Americans were its only human inhabitants. This site will be
extremely valuable to botanists and others dedicated to preserving remaining native prairies and plants.
2020 –  Worldwide pandemic caused by the SARS-Covid virus puts the world on hold. ASO continues the monthly member programs with virtual meetings, and the student art contest goes online.  
THE NEXT 50 YEARS?  –  Join us in helping ASO make an impact for the next 50 years and generations to come.